AUDI RS7 Cheap Prom Car Hire Birmingham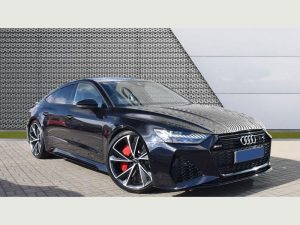 The AUDI RS7 Cheap Prom Car Hire Birmingham | Sports Car Hire is certainly one of the best brands Audi has ever manufactured. The sports car is an all-wheel-drive equipped with four-wheel steering and to add to that, an adaptable air suspension structure. The sports car is also endowed with a turbo 4.0 liter V-8 that couples with a 48-volt hybrid apparatus and an eight-speed automatic transmission. Word has it that the sports car can go up to a maximum speed of 190mph when fitted out with an energetic conglomeration. Who said we cannot find satisfaction in vehicles? Because they were so wrong. This sports car produces 591 horsepower and 590 lb-ft of torque. These are some of the most amazing features that Audi has incorporated in this sports car. The sports car is available at our car hire company, Birmingham Limo Hire.
Have you ever wondered where you can get prestige car hire services and did not know how to access the services? Birmingham Limo Hire Company is ready at your service to provide you with prestigious car hire services and all at cheap car rental rates. Luxurious car hires have always been known to be expensive.
Anniversary coming up soon and you have no gift ideas for your husband? Book an Audi RS7 on our car rentals website and enjoy the prestige car hire service package all at a cheap car rental cost. Let your husband drive you in the sports car to the destination of your choice. This will definitely be one of the unforgettable days of his life because it is not every day that your wife contacts a car hire company and rents an astonishing sports car, Audi RS7 to be specific just for your anniversary.
Alternatively, you can surprise your lover with the Audi RS7 sports car for a valentine's gift. First valentine's dates with your new lover should be something memorable and prestigious, not just the usual flowers and chocolate that has become a norm. Be more creative and hire a car in our car hire company, Birmingham Limo Hire. A valentine's day in an Audi RS7 sports car is definitely a day one should never forget.
The biggest flex the Audi RS7 has is that it can suit almost all occasions. If you have a wedding coming up too, we have the wedding hire car package individually specialized to fit your wedding needs. There is no need to book different types of cars because our fleet will be just enough for you. Our wedding hire cars are available at an affordable rate in a package known as the cheap car rentals. With this, we will offer you the best deal for car hire to suit your budget and needs.
Conclusion
Experience the greatness of the Audi RS7 sports car and give a review of your own. See if it's just like the advertisement on television. Feel free to use our car hire services whenever you want to. You can choose to be driven around by a chauffeur or do it yourself, there are no limits at Birmingham Limo Hire car hire company. Hire our cars for any occasion that you would like.