FERARRI SPORTS CARS IN BIRMINGHAM LIMO HIRE
FERRARI SPORTS CARS AT BIRMINGHAM LIMO HIRE
 
FERRARI 458 SPORTS CARS
The FERARRI 458 Sports Car Hire & Car Rental in Birmingham is a great, mid-engine, fast, well-built, and classy sports car. It is produced by the Italian automobile manufacturer Ferrari as a successor to the Ferrari 430 sports car in the market. 
After being released in 2009, the Ferrari 458 sports car quickly became the touchstone's sports car world. The sports car has won several awards for its incredible engine and body. The prestigious car is available in two body types, namely the spider convertible and a coupe. The Ferrari 458 sports car, carefully engineered with advanced technology from the company's experience in Formula One, has a unique eyewatering style. 
The FERARRI 458 Sports Car Hire & Car Rental is for car hire and has impressed and attracted many to our car rental services. The gorgeous sports car has a super aerodynamically influenced body that is to turn heads at 1000 paces. The 458 is extremely comfortable behind the wheel, and with its influence from the Formula One steering wheel carrying all the major controls, the driver has more grip and handling of the sports car. The steering wheel is perfectly accurate and sharp. Packed on with character both on the road and the track, the sport's car speed and acceleration are beyond words. 
 
LAFERRARI PRESTEGI CAR HIRE
You have probably seen several videos of famous musicians splashing a load of luxury in their music videos, in the forms of cash, designer outfits and shoes, chains, and expensive cars. The Exquisite LaFerrari sports car is a luxurious sports car that you may have come across and admired.
Well, our cheap car rental services are here to associate you with that kind of luxury at affordable car rental or car hire rates. The luxurious and unique LaFerrari sports car has incredibly drawn the attention of many worldwide, including our cheap car rental team.
This renowned sports car is a tight production hybrid and unique sports car, manufactured by the famous Italian Ferrari company. The Ferrari production boasts of this sports car's excellent performance and is the best in its manufacturing line. This unique sports car shows off its extremely enhanced and innovative technology that makes it the original sports car to possess an F1-derived hybrid feature.
This feature works with the robust electric motor that makes it the most impressive incarnation that assures a remarkable performance and driving experience that makes you feel great and classy. The tremendous sports car's architecture is the other feature that has attracted many. Impressed by the aerodynamic power expansion, low center of gravity and new hybrid integration system, our cheap car rental services find this sports car more suitable for our supercar hire services.
FERRARI CALIFORNIA SPORTSCAR HIRE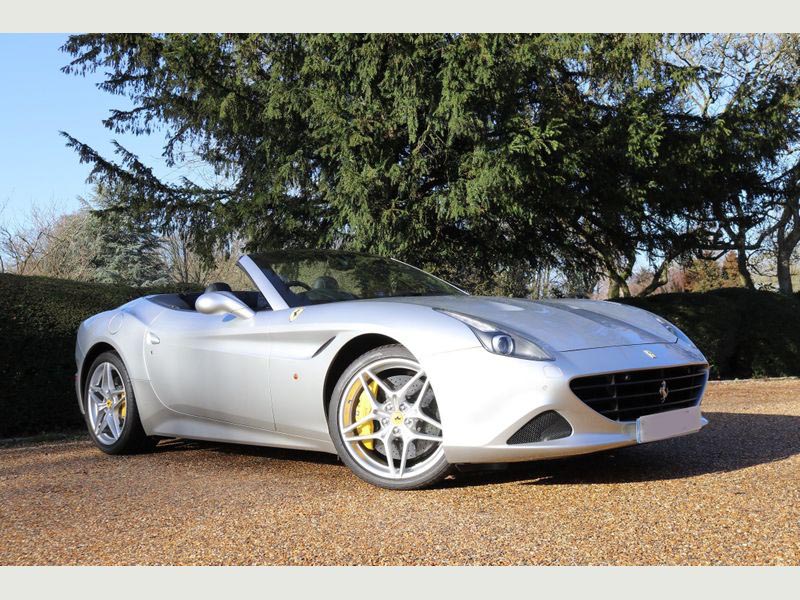 Are you eager to have an amazing and unforgettable experience in the luxurious and classic Ferrari California sports car? We, the Limo Hire London car hire company are willing to give you this unforgettable sports car experience with our sports car hire London services. Our sports car hire services offer special car rentals to our esteemed customers at a cheap car rental price. Imagine having a ride in the exquisite Ferrari California sports car at a cheap car rental cost. Wouldn't that be nice? Our car hire company is willing to give this joyful experience.
The Ferrari California is an extraordinary, pleasant super fast, and opulent sports car. It has a striking exterior décor that no one would miss. Its producer is an Italian Automotive Manufacturer, Ferrari. This distinguished sports car rental is a two-door coupe convertible sports car and had its first debut in 2008. The sports car is available in two models: California 30 which was introduced in 2012 and California T introduced in 2014. If you would like the one that is light in weight but also powerful, we advise you to go for the California 30. If your interest is exploring quickness and agility, the California T sports car would be best suited for you. The Ferrari California sports has pleased a lot of people who use our supercar hire services. With a variable power transmission to rear wheels, the sports car will give out an exceptional performance. This sports car for car hire would be a superb choice for you.