Aston Martin Sports Cars Fleet in Birmingham Limo Hire
ASTON MARTIN V12 VANTAGE 
In 2003 when the first Aston Martin V12 Vantage supercar was conceptualized, everyone was left in awe bathing in its glory. It was later on manufactured in the year 2012. Typically, the Aston Martin car models are known for their super-fast speed.  This supercar has the fastest speed among all the model versions the company ever made. This supercar is the kind of car that gives satisfaction to driving fanatics. It is motorized by a 6.0 liter Aston Martin making 510 horsepower and 429 lb-ft of torque. The vehicle is installed with four airbags to protect the two partakers inside it, in case an accident occurs. Due to its super speed, thesupercar is installed with gigantic brakes. While on the move, the ASTON MARTIN V12 VANTAGE Sports Car Hire lets out a commanding sound which brings an imbalance on what your body parts feel. Its sound suits what the body looks like.
Have all these features left you mesmerized wondering what kind of a machine this supercar could be? Are you wondering where and how you could test these features and witness the greatness yourself? The Birmingham Limo Hire, a car hire company is ready to offer you their cheap car rental services. You do not have to worry about prices because we have the best car hire deals countrywide. The supercar hire in Birmingham will leave you awed at its greatness. Book Aston Martin V12 Vantage with us for all types of events that you would like. Our car hire deals are open to all occasions, so long as it does not cause damage to the supercar for hire.
ASTON MARTIN DBS 
The Aston Martin DBS sports cars is a remarkable, fast, lightweight, and powerful vehicle. This incredible sports car has various models, namely DBS Volante 2009-2012 model, DBS 2008-2012, and DBS Superleggera.
The ASTON MARTIN DBS Sports Car Rental Birmingham Limo Hire, carefully engineered with advanced technology and unique design, complements the sports car greatly with a luxurious and chic style. This lovely sports car is available in many colors, such as red, black, and light grey, to suit your liking. Our car rentals have all these colors available in our sports cars.
There is a specific model of the Aston Martin DBS, Superleggera, which has impressed and awed many in our car rentals services. This incredible sports car has race-activated attributes such as its engine and enhanced airflow, accompanied by an F1-enhanced double diffuser around the sports car. This feature helps the sports car produce an astounding 397 pounds of down power significantly at 211mph, contributing to the sports car's most astonishing speed, which is the maximum number on the car's highest speed.
For your airport transfers in Birmingham, rest assured that our car rentals are there to save the day! Airport transfers in Birmingham car rentals offer this great Aston Martin DBS sports car engulfed in a luxurious chic traveler suit. With its open-top feature and comfortable seats, you will be delighted to view the city as the air blows all over you in great comfort
ASTON MARTIN RAPIDE
Are you a style and class kind of person who loves to travel, and looking for a car hire deal, especially one that offers airport transfer services? If your answer is yes, then you are in the right place. Birmingham Limo Hire Company looks forward to giving you car rental prices that are the most affordable among the most prominent car hire businesses. Book an Aston Martin Rapide sports car that is available under our airport transfer Birmingham services and you will definitely enjoy the drive to your destination. Check out our website for deals on airport transfer Birmingham and be amazed by our overly cheap car rental prices.
The ASTON MARTIN RAPIDE Prestige Sports Car Hire Birmingham has a rear-wheel drive, with a six-speed touchtronic automatic transmission. The sports car has a number of models, namely: Rapide S, Rapide E, and Rapide AMR. With this outstanding sports car, you are sure to get people's attention and will leave them wondering who the VIP guest is. And of course, everyone loves a little attention thrown their way.
Birmingham car rentals offer car hire services at a cheap car rental rate so do not let the notion that Aston Martin cars are expensive to discourage you from taking our car hire deals. Car hire rates are specially customized to fit everybody's needs. To add to that, our car hire services are available countrywide. Give yourself a grand entrance at the airport, book our airport transfer Birmingham service package today!
ASTON MARTIN DB9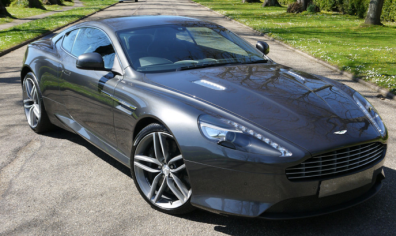 Have you ever dreamt of driving a sports car or a convertible or a motorsport car? The Aston Martin DB9 sports car hire - Birmingham Limo Hire is the "one stone that kills all these birds." The Aston Martin DB9 sports car is the car that allows you to have these driving experiences all at once. This sports car had its first debut at the Frankfurt Motor Show in 2003. The vehicle is available in multiple colors, such as black and white. The sports car is also compelling because of its 5,935CC V12 engine, its top speed of 183 miles per hour, and its 6-liter capacity fuel tank. The sports car aspect and speed power are also enabled by its carbon fiber body hence light in weight.
Birmingham Limo Hire services allow you to have a race car driver's experience with sports cars.  The car rental and car hire services offered will enable you to experience the sports car's torque and maximum power output. The sports car is available in a manual six-speed gearbox and an automatic six-speed gearbox that will allow you to have the utmost control of the sports car.
The ASTON MARTIN DB9 Sports Car Hire has a vast family and, therefore, a wide variety of sports car options to choose from. At Birmingham Limo Hire services, we offer all the DB9 models for our cheap car rental services.