---
TRV SAGARIS
---
LEARN MORE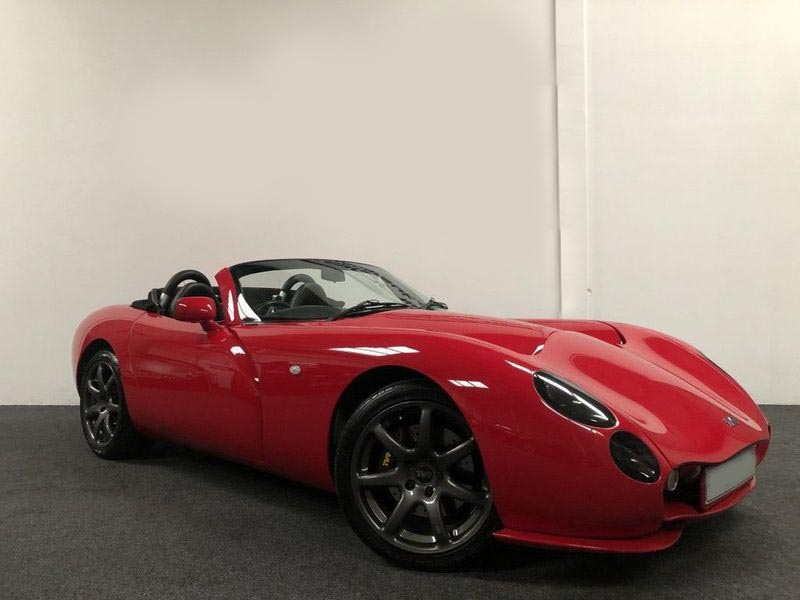 ---
TVR TUSCAN
---
LEARN MORE
TVR SAGARIS SPORTS CAR HIRE
The TVR SAGARIS Birmingham Sports Car Hire has a giant insect-like exterior that quickly catches many people's attention. The sports car is a graceful improvement of the TVR factory regarding its build quality and driving performance. Despite its small figure, its stance and unique details give it an engaging driving experience. The sports car's handling is excellent since it can change direction fast and efficiently as its body control is excellent.
This TVR Sagaris is a rear-wheel-drive with a robust front engine and a double-door coupe body exterior. As a vintage-like sports car, the TVR Sagaris is admired as a wedding car hire in Birmingham. This unique sports car is among our luxurious and unique wedding hire cars.
Our car rental company has exceptional wedding car hire in Birmingham services since we want to make your unique and special day more memorable and unforgettable. You do not need to panic about disappointment on our end. Our car rental company is widely known and preferred for an exceptional wedding car hire in Birmingham services.
Our phenomenal wedding hire cars will make your wedding stand out in being ultimately unique. There is no iconic feeling that can surpass the feeling of getting out of a classic TVR Sagaris sports car. A drive to the reception with our TVR Sagaris wedding hire car will elevate your moods further. With a splendid, comfortable, and excellent driving performance, with champagne and wine on the classic TVR Sagaris car hire, you are set to enjoy beautiful views, and the lovely wind on your faces and an excellent driving experience in our traditional wedding hire car.
TVR TUSCAN SPORTS CARS BIRMINGHAM
The TVR TUSCAN sports cars hire Birmingham is a steady and efficient sports car that has caught many individuals' eyes. The sports car made its first debut in 1999. However, a series of changes have been made to the various TVR Tuscan sports car models since then, such as the increased horsepower, powerful engine, and exterior design.
The sports car's horsepower and torque make it the most suitable car rental choice for most events. No one wants to drive a puny and fragile machine. The TVR Tuscan sports car models have an approximate horsepower of 350hp. Therefore, car rental and car hire customers who seek our TVR Tuscan sports car for race car driving have a great chance of experiencing its ultimate thrill and vibe.
Moreover, race car drivers can choose the TVR Tuscan sports cars hire Birmingham for race car purposes as it has a lively chassis and lacks traction control. Choose our prestige car rental services and have an exciting, thrilling, and high adrenaline race with the TVR Tuscan sports car.